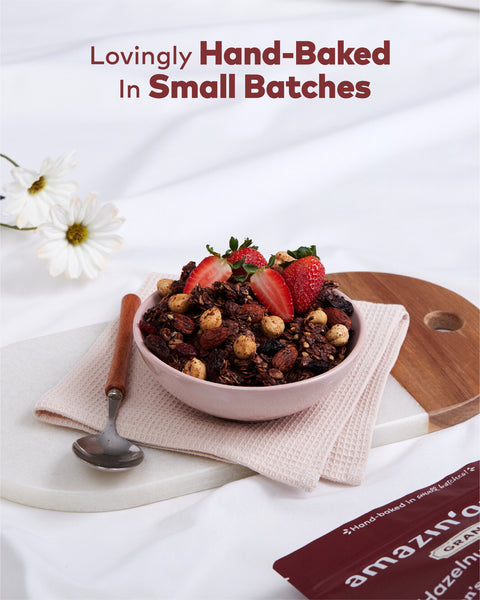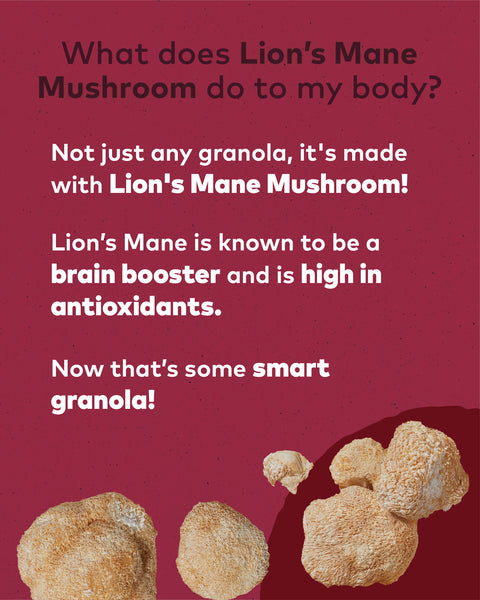 Hazelnut Chocolate Granola with Lion's Mane Mushroom
Get a load of Hazelnut Chocolate Granola with Lion's Mane Mushroom - a delectable blend of rich cocoa, juicy cherries, and the power of Lion's Mane extract  known for its cognitive-boosting properties. Seduce your tastebuds, improve your immunity, and embark on a guilt-free indulgence like never before.
Reduced Sugar

Plant-Based

Good Source of Fiber
Nutritional information
Serving Size 30g, % Daily Value, Calories 142, Total Fat 5.5g 7%, - Saturated Fat 0.7g 4%, - Trans Fat 0g, Cholesterol 0mg 0%, Sodium 24mg 1%, Total Carbohydrate 20.6g 7%, - Dietary Fiber 3.2g 11%, - Total Sugars 5.3g, - Includes 3.7g Added Sugars 7%, Protein 2.6g 5%, Vitamin D 0mcg 0%, Calcium 17mg 1%, Iron 2.6mg 14%, Potassium 132mg 3%,
Traditional Rolled Oats, Agave Nectar, Non-GMO Canola Oil, Allulose, Cocoa Powder, Buckwheat, Unsweetened Black Raisins[Raisins, High Oleic Sunflower Oil], Dried Unsweetened Cranberries [Cranberries, Sunflower Oil], Almonds, Hazelnuts, Chia Seeds, Coconut Sugar, Unsweetened Dried Cherries, Lion's Mane Extract, Sea Salt.