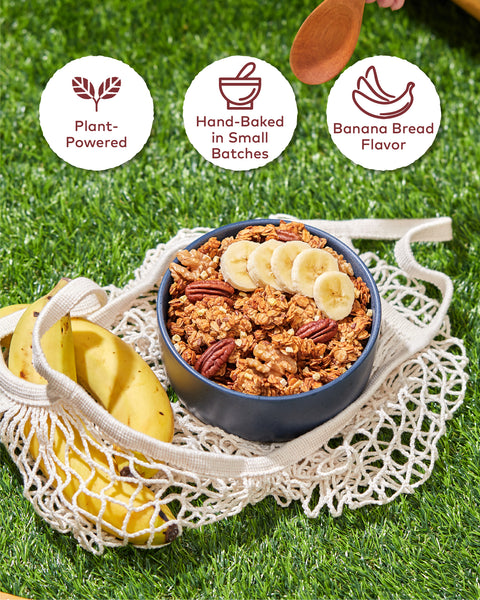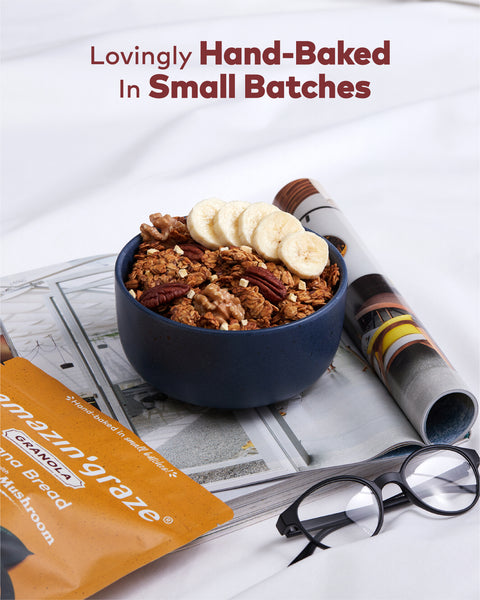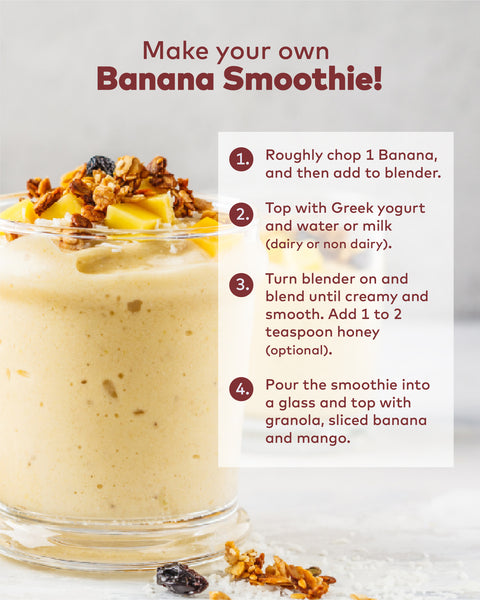 Banana Bread Granola with Lion's Mane Mushroom
Discover the ultimate edible comfort with Amazin' Graze's Banana Bread Granola with Lion's Mane Mushroom (known for its cognitive-boosting properties.) Perfectly capturing the essence of this quintessential comfort food, our Banana Bread Granola is designed to improve immunity, uplift your spirits and envelop you in a cozy, feel-good state.
Reduced Sugar

Plant-Based

Good Source of Fiber
Nutritional information
Calories, 140
Total Fat 5g 6%,
- Saturated Fat 0.7g 4%,
- Trans Fat 0g,
Cholesterol 0mg 0%,
Sodium 41mg 2%,
Total Carbohydrate 21.3g 8%,
- Dietary Fiber 3.2g 11%,
- Total Sugars 5.1g,
- Includes 3.1g Added Sugars 6%,
Protein 2.4g 5%,
Vitamin D 0mcg 0%,
Calcium 8mg 1%,
Iron 1.5mg 8%,
Potassium 44mg 1%,
Traditional Rolled Oats, Banana Puree [Banana, Ascorbic Acid], Agave Nectar, Non-GMO Canola Oil, Freeze Dried Banana, Allulose, Pecans, Walnuts, Flaxseeds, Cinnamon, Lion's Mane Extract, Sea Salt.